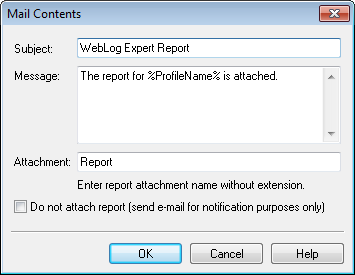 In this dialog you can specify mail contents used to send reports via e-mail.
| | |
| --- | --- |
| Subject: | E-mail subject. |
| Message: | E-mail message. |
| Attachment: | Attachment name without extension. For HTML reports the program will compress report to a ZIP file with the specified name and .zip extension and send it as an attachment. PDF and CSV reports are sent without compression, report file has the specified name and the appropriate extension (.pdf or .csv). |
| Do not attach report: | Use this setting to send e-mail without attached report. The setting is available when you edit custom mail contents in the profile properties, it's not possible to set it in the default mail contents in the program options. The program sends attached report by default. |
You can use date macros in the Subject, Message and Attachment fields. You can also use the %ProfileName% (profile name) and %DomainName% (domain name specified in the profile properties) macros in the Subject and Message fields.