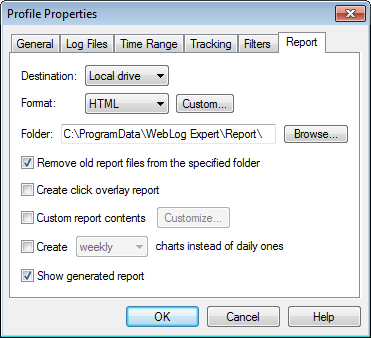 Destination
There are several possible destinations for the report generation:
·Local drive. Specify a folder to which report files will be saved (for HTML reports) or a report file name (for PDF and CSV reports). You can use date macros in the output folder/file name.
·FTP. Upload report files via FTP. You can edit the FTP settings using the Edit button.
For the local drive and FTP destinations you can enable option to remove old page, .png and .js files from a specified local/FTP folder if you use HTML reports. Page files are files with an extension specified as HTML report page extension in the program options or profile properties (click the Custom button near the Format combo box on this page to change the HTML extension). The option may be useful because different HTML reports may contain different number of files. If this option is off, some unused files from old reports may still exist. If the option is on the program will automatically delete page, png and .js files in the folder before generating report.
·E-mail. Send report via e-mail as an attachment. For HTML reports log report files are compressed to a ZIP file before sending. You have to specify destination e-mail address. Multiple e-mail addresses can be separated with semicolons. You can also specify custom mail contents (subject, message, attachment name). By default mail contents defined in the program options is used.
·[Requires Enterprise Edition] Web server. Publish report on a web server (built-in or IIS). You can choose which users can view this profile as well as custom dashboard settings. You can also control the Include detailed log data setting. When this setting is enabled, the program saves full information on hits and visitors to the database that adds support for filters and detailed reports on hits and visitors in dynamic HTML reports.

Using the Include detailed log data option is not recommended for very large log files as it may significantly increase analysis time.
·Multiple. Send report to multiple destinations.
Format
The program supports HTML, PDF and CSV reports. You can also specify custom report format settings. By default format settings from the program options are used.
Click overlay report
The click overlay report can be created when the HTML report format is selected. The report file Report.wler is saved along with the usual HTML report files to the specified folder.
Report contents
The Custom report contents option allows you to specify which charts and tables to generate for this profile, as well as properties of individual tables and charts. By default the report contents from the program options is used.
Other settings
The Create weekly/monthly/yearly charts instead of daily ones option affects daily comparison charts, e.g. the "Daily Page Access" chart, as well as the "Daily Conversions of Goal" and "Daily Activity for Tracked File" reports.
The Show generated report setting controls whether to open the generated report. This option doesn't work in the command line mode.